Eat, pray, love
The "white imagination" sanctuary
Roksana Badruddoja

Manhattan College
Keywords:
travel, sanctuary, Orientalism, white imagination, travel privilege, citizenship, border control
Abstract
The stretched-out Oprah-endorsed Eat, Pray, Love (2007) cultural model—what I call the "'white imagination' of sanctuary"—is a troublesome one as we continue to struggle over neoliberal empire-inspired border racialization projects. In this "white imagination" (hooks, 1992/2015) of sanctuary, the travels to find oneself often include falling in love—and perhaps even finding an orgasmic cup of coffee—as a confirmation of enlightenment. The Eat, Pray, Love peace and sanctuary model effaces the specificities of how the travel between the "Global North" and "Global South" is constructed through guarded nation-state borders and citizenship. In this model, the search for sanctuary à la spiritual awakening is tethered to the discourse of "finding oneself" through transatlantic travels—which requires freedom of mobility across nation-state boundaries—between the "West," e.g., America, to the "East," e.g., India. The discourse of sanctuary bracketed with travel (while drinking sweetened coffee/tea in quaint cafés) is based on "western" (e.g., American) citizenship (and class and race privileges), and it is the legacy of the white traveler on vacation—luxury, leisure, and privilege.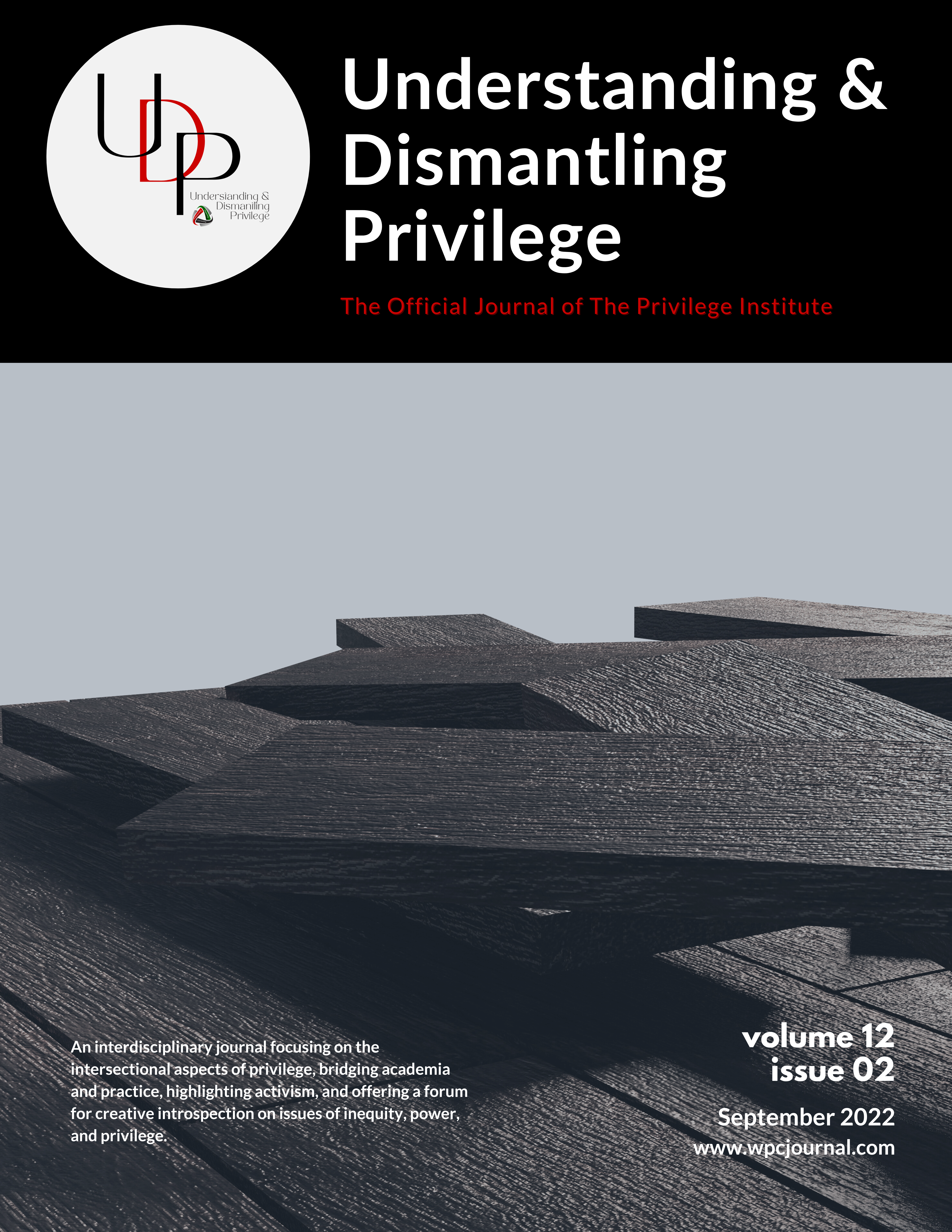 How to Cite
Badruddoja, R. (2022). Eat, pray, love. Understanding and Dismantling Privilege, 12(2), 86 - 92. Retrieved from https://www.wpcjournal.com/article/view/19772
Section
Creative Works & Self-Reflections
This journal is an academic publication. Its sole purpose is the dissemination of knowledge to as wide an audience as possible. The journal is free to individuals and institutions.
Copyrights for contributions published in this journal are retained by the authors, with first publication rights granted to the journal.

Copies of this journal or articles in this journal may be distributed for research or educational purposes free of charge and without permission. However commercial use of the journal or the articles contained herein is expressly prohibited without the written consent of the author.

NOTE TO AUTHORS:
A new model, the Creative Commons approach, with split copyright is rapidly evolving and worth considering.