Dismantling racism
A narrative analysis of the evolution of and factors influencing White anti-racism action
Lauren L. Dawe

University of Florida

Jennifer A. Jones

University of Florida

Marilyn E. Swisher

University of Florida

Paul Ortiz

University of Florida
Keywords:
White privilege, White identity management, anti-racist action, social justice
Abstract
Dismantling white privilege requires anti-racist action of some sort. However, there is little research about the factors that influence White people to engage in anti-racist work or what can be done to promote White anti-racist action. We conducted an exploratory qualitative study to address this question where we interviewed White individuals, we had reason to believe were engaged in an anti-racist activity (n = 6). The research question was as follows: To what extent, if any, are the participants aware of their white privilege, and how do they describe their journey to anti-racist action? Findings suggest that dismantling white privilege is a complex journey. Participants engaged in dismantling work described an evolution of the understanding of their white privilege that included influential people that encouraged critical thinking or empathy and some combination of small and large revelatory moments. Participants also spoke to experiences of backtracking or resisting and a constant balancing act related to managing privilege. Scholarly and practical implications of this study are discussed.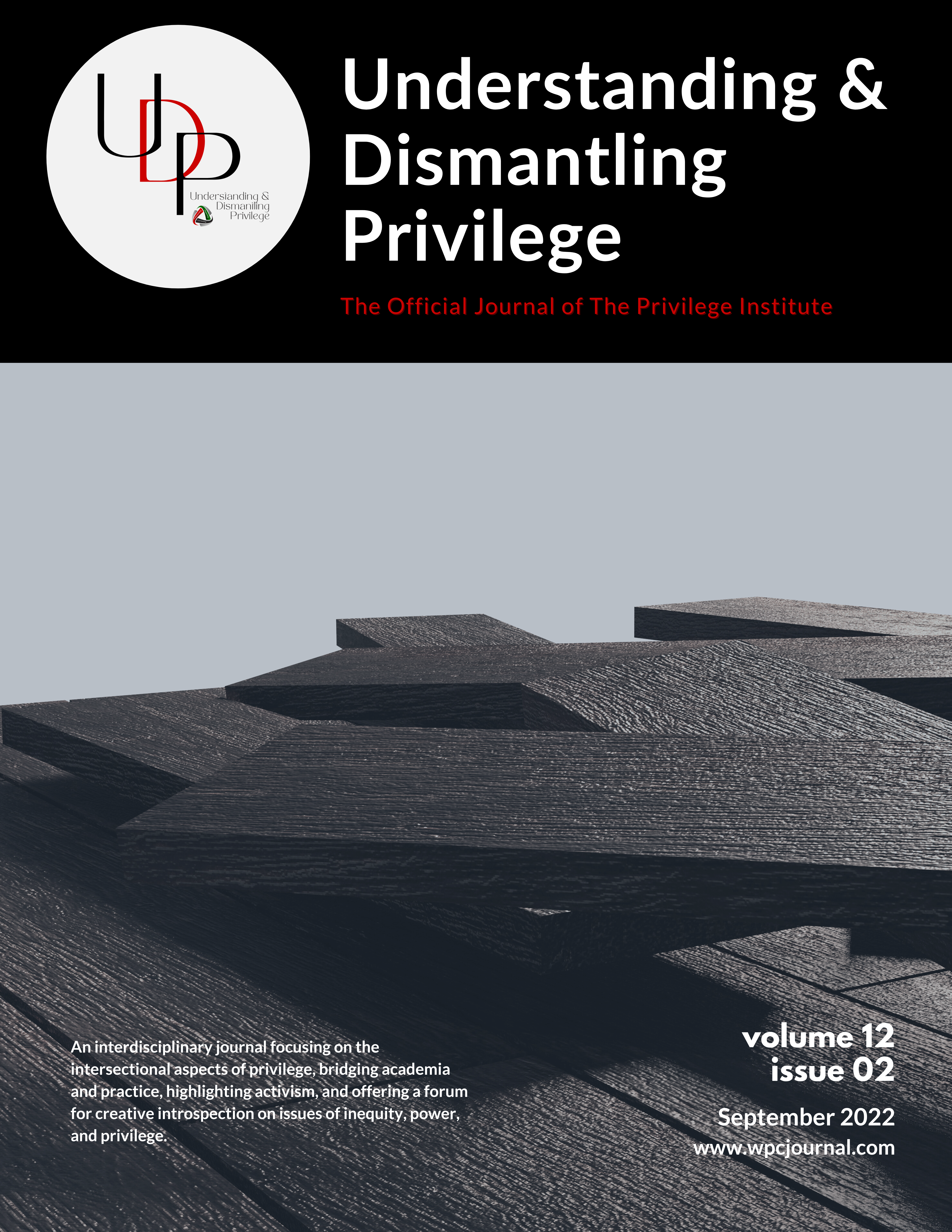 How to Cite
Dawe, L., Jones, J., Swisher, M., & Ortiz, P. (2022). Dismantling racism. Understanding and Dismantling Privilege, 12(2), 68 - 85. Retrieved from https://www.wpcjournal.com/article/view/19659
Section
Research Articles
This journal is an academic publication. Its sole purpose is the dissemination of knowledge to as wide an audience as possible. The journal is free to individuals and institutions.
Copyrights for contributions published in this journal are retained by the authors, with first publication rights granted to the journal.

Copies of this journal or articles in this journal may be distributed for research or educational purposes free of charge and without permission. However commercial use of the journal or the articles contained herein is expressly prohibited without the written consent of the author.

NOTE TO AUTHORS:
A new model, the Creative Commons approach, with split copyright is rapidly evolving and worth considering.